Corporate Events
Escape the ordinary and really wow your guests!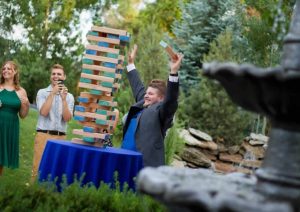 Choose our spectacular, beautiful and functional event center for your next corporate event. Large groups or small, we take pride in catering to every request and will work hard to ensure your corporate event is a complete success. WiFi access, a sound system, podiums, and projection screens are available for use. Free WiFi capable of handling a high volume of users, upgraded sound system, podium and state of the art projection screens are available for your next Corporate event.
We cater to the following events:
Business Meetings
Board Retreats
Team Building Events
Employee Recognition
Retirement Parties
We take care of all your needs.
Our exceptional event managers offer impeccable service, attention to detail, and flawless presentations for every event. Why not visit Church Ranch Event Center. View the spectacular setting and facilities to see for yourself. Contact our Sales Consultant today via phone, email or through the Contact Us page, to book your visit.
Church Ranch Event Center Offers
Location – Church Ranch Event Center is conveniently located between Denver and Boulder with easy access from Highway 36.
Atmosphere – Two acres of private gardens, waterfalls, and hundreds of shade trees, set in peaceful surroundings that both invite and refresh. We offer exclusive events, and total privacy.
Parking – Church Ranch Event Center provides complimentary private parking and 3 VIP Parking spots.
Cost – Our team of consultants will work in tandem with you keeping in mind your budget and requirements for your event.
Preferred Partner Vendors – Church Ranch Event Center is s full-service venue. We have the ability to do as much or a little as you would like. Our partnership with farm fresh friends and preferred vendors assist you in the decision making process. Our hand selected vendors have been chosen based on the consistency and quality of products and services they provide to our clients. We have all the resources and team to make your special day unique to you based on your vision and flavor profiles.
Team Building Experience
As a business leader sometimes, you need to get your team out of the office to have them focus on the big picture and change up the day-to-day routine. The problem is typically you simply do not have the time to put it all together and organize a great team building experience. Here at Church Ranch we have done all the work for you.
Church Ranch Event Center has a half day or full day team building and discovery workshops. This workshop will take your team to the next level in communication, working as a team and more. Church Ranch will bring in team building expert Jeff Rasor to help develop your team to be free from confusion, frustration, discouragement, doubt, and other problems that hold a team back or you can bring in your expert.
All the flexible arrangements are complete including the venue, food and training. Leave the details to us. Just bring your team and reap the benefits. Please reach out to us for more details.